McArthur Hill in Sentani Sub-district, Jayapura City - Indonesia
---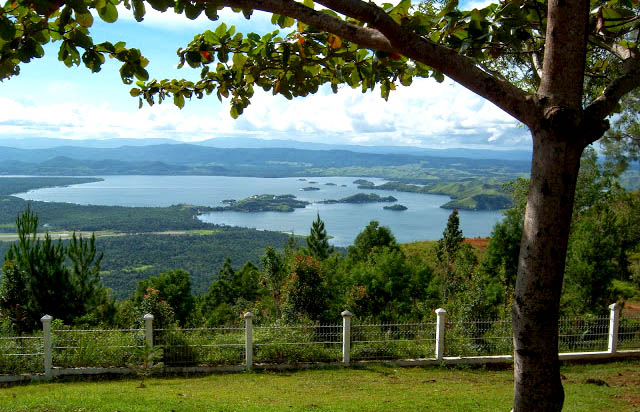 Located in the easternmost of Indonesia, Papua Province becomes a wonderful place to spend a holiday. In this case, for those who look for beautiful views of nature, they must visit Sentani region where MacArthur Hill resides. The location is in Hinekombe Village and it belongs to Sentani Sub-District, actually. To be exact, it resides on Ifar Gunung Street and offers stunning views of surrounding environment including Cyclops Mountains, valleys, and Sentani Lake. As tourists may expect, they can enjoy sightseeing and photography on the site. Somehow, the hill is suitable for relaxation too.
The Nuance
In terms of size, McArthur Hill is moderate. It offers similar characteristics to nearby hills as well. These include savanna, trees, bushes, and fresh air of the highland. The best view offered by the site perhaps is Sentani Lake. That means visitors can witness such serene lake from the top of the hill. They can also see other mesmerizing views, especially Cyclops Mountains. Not to mention the hill becomes the home of historical McArthur Monument! During the exploration, that means, tourists can hear story regarding the monument from the local guide as well.
Exploring McArthur Hil
First-timers may wonder what they can do in McArthur Hill, actually. Well, the most popular activity is none other than sightseeing. Tourists often come in the afternoon to enjoy the ambiance and panorama of surrounding sites. Not only the hill becomes more comfortable in the afternoon, it also offers jaw-dropping sunset as well! So, everyone should ensure to visit the hill at that perfect time. Otherwise, they may miss such stunning sunset.
Aside from sightseeing, the hill offers an opportunity to conduct trekking and adventure. It is because tourists need to pass through several challenging landscapes before arriving at the top of the hill. From Sentani Sub-District, they can head directly to the hill by any type of vehicle. However, it takes an inspection done by the local army. It is because the hill resides within Kodam XVII Cenderawasih's territory. Even visitors should leave an ID as a guarantee.
Once passing through the guard post, tourists may find historical McArthur Monument in that area. The building contains information and history regarding General McArthur and his troops during the war back then. Near to the monument, some gazebos reside. That means tourists can relax for a while before continuing their trip to explore the hill. As for the tips, it is recommended to carry bottled water and snacks!
Nearby Attractions
Emfote Lake
Love Lake
Ikhwan Park
Teletubbies Hill
Patouw Pier
Kuning Pier
Khalkote Beach
Kali Jernih Natural Bath
Mc Arthur Hill
Nolokia Waterfall
Asei Island
How to Get There
From Jayapura City, tourists can take any local transportation service and head to Sentani Sub-District. Later, they only need to visit Hinekombe Village where the hill resides. The whole trip takes about 1 hour, as the distance is 28.9 km. As for the best route, it is none other than Raya Abepura Street.
Where to Stay
Carvin Hotel
Surya Jaya Hotel
Sabang Land Hotel
Metta Star Sentani Hotel
Endnit Hotel
J-Five Hotel

Latest News
The Raja Ampat area, West Papua, in addition to its beautiful underwater panorama, the plains also have amazing charm. The karst hills at first glance look like cones, scattered in clear green waters. Deep blue water lagoons around it looks so wonderful. Tropical rainforests with endemic fauna of Raja Ampat such as the waigeo cuscus (Spilocuscus papuensis), the red bird of paradise (paradisaea rubra) and the bald bird of paradise (cicinnurus respublica) are also there. In addition to snorkeling, travelers can trekking to enjoy climbing spots on a cluster of…
---
The fertile land makes Indonesia rich in plantation products, especially upland plantations such as coffee. One of the highlands in Indonesia turns out to produce the best Arabica coffee, low in acid and caffeine. Some coffee lovers and observers say arabica coffee from the highlands of Papua is one of the best coffees Indonesia has. Arabica coffee grown in the peak area of Jayawijaya mountains has acid levels that close to zero, and low caffeine. Because the higher the place, the better arabica coffee will be. Arabica coffee is grown…
---
For those who want to spend a vacation in Merauke Regency, they indeed need to find information regarding the most recommended tourist sites in that region. As for the reference, there is the famous Kapsul Waktu Monument in Kelapa Lima Village. The location is right on the city square, so it is quite accessible for everyone. Well, aside from the easy accessibility, the monument becomes famous due to other reasons, though. For instance, it is related to the name, which means the monument of the time capsule. Not to mention…
---
Known as the town at the east-most end of Indonesia. Merauke is the first town in Indonesia Archipelago that catches the first rays of the rising tropical sun. Officially, Merauke as the capital city of Papua province, Indonesia. Merauke as one of the goals in Papua must be visited and enjoyed the beauty of nature. Found on February 12, 1902 by a Dutch citizen who tried to live among the indigenous population of Marind Anim and Sohores. The name Merauke itself is said to originate from an anecdote among Dutch settlers and indigenous. At…
---