Abar Village in Ebungfauw Sub-District, Jayapura - Indonesia
---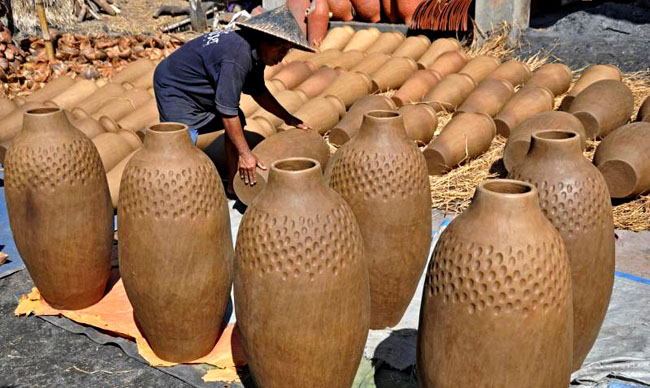 When visiting Sentani Lake in Papua Province, tourists should not miss the opportunity to visit several cultural villages (located near to the lake). For example, there is Abar Village in Ebungfauw Sub-District. This small and serene local settlement is known for its signature handicraft called "Gerabah" or pottery. Even though Abar is not the only place where potteries where produced, it is without a doubt the famous one among the others. No wonder, the locals are able to create valuable products and attract more tourists to come to the village.
The Nuance
As the time goes by, pottery vanishes in Papua Province. Abar becomes the only village that survives such decline in popularity. This also explains why travelers' prime motive to come to Abar is to witness the making of "Gerabah" done by the local women and buy some products as a souvenir. Once tourists arrive at the village, they may see only women who do the making. Without any modern tools, the villagers create such unique products passionately! They do not even have an official workshop, as they would do it anywhere (especially the house terrace).
Exploring Abar Village
Before exploring the site, tourists should learn the history of Abar Village beforehand. In terms of age, this local settlement is indeed old. There is the proof, in fact. It is the archeological findings of an ancient settlement site of Neolithic culture. Plus, the locals have retained the art of pottery for decades. Thanks to the abundant and good clay landscape that scatter in some parts of the village. Thus, villagers can take advantage of the clay to make those potteries.
The information regarding Abar Village's history can be obtained either from villagers or tour guides, actually. What is more? The next recommended thing to do is to watch the making of pottery done by female villagers. During the process, tourists can even learn the technique and ask some questions. Here is the unique thing. The crafters apply traditional methods and use open burning equipment instead of an oven. Even though it takes longer than modern procedures, it looks more authentic and has a more value!
"Mace" or local female potters are quite friendly and they are ready to teach tourists how to make a pottery. The technique is simple and it takes only about an hour to finish a product. As for the workshop, the locals usually use their house's terrace to make a pottery. Moreover, they conduct such activity while chatting with other potters! Sounds fun?
Nearby Attractions
Love Lake
Ikhwan Park
Teletubbies Hill
Patouw Pier
Kuning Pier
Khalkote Beach
Kali Jernih Natural Bath
Mc Arthur Hill
Nolokia Waterfall
Asei Island
How to Get There
From Jakarta, tourists need to take an airplane to Papua Province (Sentani Airport). It takes about 8 hours, though. Once arriving at the village, they can either visit Sentani Lake or directly head to Abar Village in Ebungfauw Sub-District.
Where to Stay
Carvin Hotel
Surya Jaya Hotel
Sabang Land Hotel
Metta Star Sentani Hotel
Endnit Hotel 
J-Five Hotel

Latest News
The Raja Ampat area, West Papua, in addition to its beautiful underwater panorama, the plains also have amazing charm. The karst hills at first glance look like cones, scattered in clear green waters. Deep blue water lagoons around it looks so wonderful. Tropical rainforests with endemic fauna of Raja Ampat such as the waigeo cuscus (Spilocuscus papuensis), the red bird of paradise (paradisaea rubra) and the bald bird of paradise (cicinnurus respublica) are also there. In addition to snorkeling, travelers can trekking to enjoy climbing spots on a cluster of…
---
The fertile land makes Indonesia rich in plantation products, especially upland plantations such as coffee. One of the highlands in Indonesia turns out to produce the best Arabica coffee, low in acid and caffeine. Some coffee lovers and observers say arabica coffee from the highlands of Papua is one of the best coffees Indonesia has. Arabica coffee grown in the peak area of Jayawijaya mountains has acid levels that close to zero, and low caffeine. Because the higher the place, the better arabica coffee will be. Arabica coffee is grown…
---
For those who want to spend a vacation in Merauke Regency, they indeed need to find information regarding the most recommended tourist sites in that region. As for the reference, there is the famous Kapsul Waktu Monument in Kelapa Lima Village. The location is right on the city square, so it is quite accessible for everyone. Well, aside from the easy accessibility, the monument becomes famous due to other reasons, though. For instance, it is related to the name, which means the monument of the time capsule. Not to mention…
---
Known as the town at the east-most end of Indonesia. Merauke is the first town in Indonesia Archipelago that catches the first rays of the rising tropical sun. Officially, Merauke as the capital city of Papua province, Indonesia. Merauke as one of the goals in Papua must be visited and enjoyed the beauty of nature. Found on February 12, 1902 by a Dutch citizen who tried to live among the indigenous population of Marind Anim and Sohores. The name Merauke itself is said to originate from an anecdote among Dutch settlers and indigenous. At…
---