Enjoying Delicious Culinary of Sentani Lake, Jayapura - Indonesia
---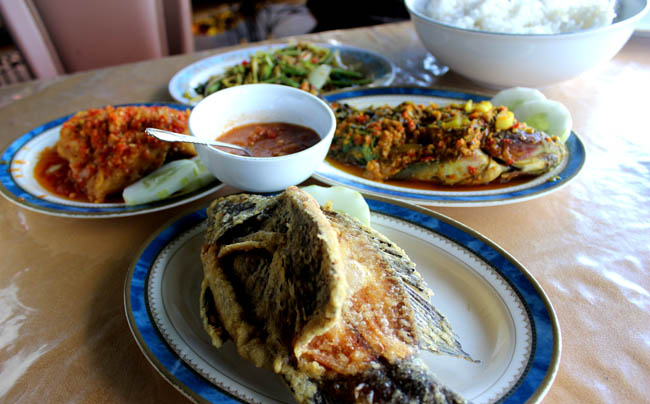 During a vacation in Sentani Lake of Indonesia, most tourists are likely to enjoy natural scenery offered by the lake its surrounding landscapes. Still, they should not miss another interesting activity which is to enjoy local culinary. It is a rare opportunity, after all. They won't be able to try such delicious foods directly on their origin after going home. Have no worries. Some local eateries reside near to the lake, so everyone can easily get the foods there. Not to mention the price is affordable. As an alternative, they can visit nearby villages and get free foods from the locals. These include Papeda and snakehead murrel soup.
The Uniqueness
Even though Papeda is also available in other provinces in Sulawesi Island, the one that tourists can find in Sentani Lake and Papua Province has a softer texture. In a nutshell, it replaces rice and becomes the prime carbohydrate source. As for the side dishes, "Ikan Gabus" soup often becomes the best choice. It tastes both sweet and savory, featuring local yellow spices. After all, Sentani Lake is abundant of snakehead murrels (Ikan Gabus). No wonder, it becomes the signature dish of the site.
Enjoying Delicious Culinary of Sentani Lake
Aside from its softer texture, Sentani's Papeda doesn't feature too many vegetables as compared to South Sulawesi's Kapurung. One thing that makes it different is the presence of signature dish called snakehead murrel soup. The soup indeed tastes great, especially served warm. As for the tips, it is the best to enjoy the soup in the evening or during cold weather. It feels fresh and warm! Not to mention tourists can choose whether the soup comes with a spicy feature or not.
Snakehead murrel soup is not the only option when it comes to Sentani's signature dish. As an alternative, tourists can get grilled or roasted murrel as well. This option offers sweeter and crispier taste! However, it tastes the best when eaten with rice instead of Papeda. Make sure to add some soy sauce to strengthen the taste. Tourists can also get the spicier version, which becomes the most popular choice among the locals.
There are several tips when it comes to enjoying Sentani Lake's culinary. For example, it is related to the place where tourists should get the foods. The safe bet is to visit nearby local eateries and order the foods right away. However, the taste is different if tourists visit nearby villages and make the villagers cook Papeda and snakehead murrel soup for them. 

Nearby Attractions
Abar Village
Love Lake
Ikhwan Park
Teletubbies Hill
Patouw Pier
Kuning Pier
Khalkote Beac
Kali Jernih Natural Bath
Mc Arthur Hill
Nolokia Waterfall
Asei Island
How to Get There
In order to enjoy the best culinary of Sentani Lake, tourists need to visit local eateries that reside near to the site. From Jakarta, the flight takes about 8 hours and the destination is Sentani Airport in Papua Province, Indonesia. Next, they can simply reach the lake by any local transportation service (especially taxi).
Where to Stay
Carvin Hotel
Surya Jaya Hotel
Sabang Land Hotel
Metta Star Sentani Hotel
Endnit Hotel 
J-Five Hotel