Cyclops Mountains in East Sentani Sub-District, Jayapura - Indonesia
---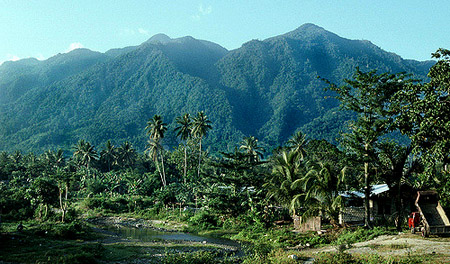 Sentani Lake is indeed popular among travelers who often visit Papua Province. However, some of the visitors perhaps do not notice an amazing vacation destination located near to the lake, called Cyclop Mountains. The location is in Nolokla Village and it belongs to East Sentani Sub-District in Indonesia. The locals also call it "Air Susu Ibu" Mountain, actually. Not to mention it is considered a sacred site and owns many water springs that flow to Sentani Lake. As for tourists, the mountain indeed becomes their perfect location to conduct trekking, nature adventure, and photography.
The Nuance
In terms of size, the mountain indeed looks grandiose. It comes with the size of about 22,000 hectares and it consists of numerous types of trees and plants. Not to mention it is the home of both rainforest and moss forests! Visitors can also find other landscapes like swamps and cultivated lands there. Due to the location, which is on 2,160 above sea level, the mountain features a cool and fresh atmosphere (which is suitable for relaxation). When it comes to fauna, the mountains become the home of more than 80 mammal species and 270 bird species.
Exploring Cyclops Mountains
Another name of Cyclops Mountains is Dafonsoro or Dabonsolo. The distance is around 30 km from Jayapura City and it becomes a perfect location for hiking, as well. In fact, many spots are available for tourists to visit during trekking. They can drop by at McArthur Monument for resting before continuing the trip, for example.
Next, Cyclops Mountains Indonesia often become a destination for tourists who want to watch beautiful scenery of Teletubbies Hills, Sentani Lake, etc. Thanks to the strategic location. The site offers the unlimited beauty of nature, which is suitable for both photography and sightseeing. In this case, the best spot to visit is none other than McArthur Monument. Not only it offers the best panorama, the site teaches visitors regarding the history of General McArthur as well.
The next allure of Cyclops Mountains is the presence of Cyclop quartz crystal stone. Due to its rarity, many people come to the mountain to cultivate these beautiful stones. These include collectors, businessmen, jewelers, etc. Not to mention the stones come in various colors including blue, white, green, yellow, red, black, and orange! The most noticeable characteristic is that the light can penetrate them easily, which looks so unique! On top of that, the price is quite expensive in the market. This explains why tourists choose to get them directly from the source instead of buying them from the market.
Nearby Attractions
Nolokla Waterfall
Mc Arthur Monument
Theys Eluay Tomb
How to Get There
For those coming from Jayapura City in Indonesia, they can take local transportation service and head to East Sentani District. Later, they only need to visit Nolokla Village and start trekking. The whole trip may take about 40 minutes, as the distance is 15.2. As for the best route, it is Raya Abepura Street. If they come from Sentani Lake, it takes about 1 hour and 30 minutes by walking.
Where to Stay
Sabang Land Hotel
Merbau Hotel
Surya Jaya Hotel
Endnit Hotel