Hamadi Market in Jayapura City, Papua - Indonesia
---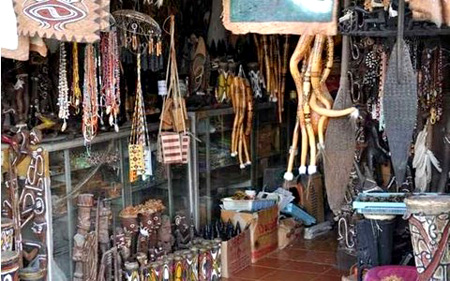 Located near to Jayapura City and Sentani Lake, Hamadi Market becomes a nice vacation destination for those who visit Papua Province of Indonesia. This public market definitely has an important role in retaining the economic turnaround of Jayapura as well as in accommodating both locals and tourists when it comes to buying souvenirs and basic needs. Especially for tourists, the market offers numerous types of local art goods that they can buy during the vacation. The best thing is that the items come at an affordable price! Even bargaining is quite possible there.
The Nuance
Once arriving at the market, tourists can see beautiful ornaments and art goods displayed on the stands right away. They look unique, for sure. The fact is that Hamadi sells almost all types of trinkets that belong to local tribes. These include traditional weapons, necklaces, hair ornaments, etc. In terms of aesthetic, they are indeed valuable. Thus, without a doubt, tourists are going to spend some money for those items. Have no worries. Most sellers are able to speak English, so foreigners can buy without any troubles there.
Exploring Hamadi Market
The presence of Hamadi Market has helped tourists to get unique items that they want. That means they do not need to visit secluded villages to get those art goods anymore. The sellers gather in the market and offer various types of local trinkets to buyers. Moreover, these sellers are ready to take orders for any items that tourists can't find there. They would ask the buyers to wait for a while so that they can get the items by visiting a particular village located near to the market. Such impressive service given by the sellers makes the market more popular, for sure.
As mentioned before, the market offers almost all types of traditional ornaments owned by different tribes of Papua Province. The most popular one is Asmat's totem, which looks both unique and mystical. Other famous knick-knacks that tourists can get from Hamadi Market are Raja Ampat's Cendrawasih, Wamena's Noken, and Sentani's wooden paintings. All of them are valuable and worth the money, for sure. Thus, it is good to spend some money to buy those items.
Why is the price cheaper than other places? It is because the sellers get the products directly from the artists or makers. No distributors involve, so the price is considered affordable to buyers and tourists. It can even be cheaper if buyers can do bargaining well. For foreigners, it is better to come with a local guide so they can get a better price before purchasing.
Nearby Attractions
Jayapura City
Mesran Park
Imbi Park
How to Get There
The good thing is that Hamadi Market is located quite near to Jayapura City in Indonesia. The distance is only 11 km, so the trip only takes about 25 minutes or less. As for the route, the best one is Raya Abepura Street. There is no need to hire a local guide, as the accessibility is quite easy to get to the market.
Where to Stay
Mahkota Hotel
Rais Hotel
Delima Hotel
Musi Indah Hotel
Relat Indah Hotel

Latest News
The Raja Ampat area, West Papua, in addition to its beautiful underwater panorama, the plains also have amazing charm. The karst hills at first glance look like cones, scattered in clear green waters. Deep blue water lagoons around it looks so wonderful. Tropical rainforests with endemic fauna of Raja Ampat such as the waigeo cuscus (Spilocuscus papuensis), the red bird of paradise (paradisaea rubra) and the bald bird of paradise (cicinnurus respublica) are also there. In addition to snorkeling, travelers can trekking to enjoy climbing spots on a cluster of…
---
The fertile land makes Indonesia rich in plantation products, especially upland plantations such as coffee. One of the highlands in Indonesia turns out to produce the best Arabica coffee, low in acid and caffeine. Some coffee lovers and observers say arabica coffee from the highlands of Papua is one of the best coffees Indonesia has. Arabica coffee grown in the peak area of Jayawijaya mountains has acid levels that close to zero, and low caffeine. Because the higher the place, the better arabica coffee will be. Arabica coffee is grown…
---
For those who want to spend a vacation in Merauke Regency, they indeed need to find information regarding the most recommended tourist sites in that region. As for the reference, there is the famous Kapsul Waktu Monument in Kelapa Lima Village. The location is right on the city square, so it is quite accessible for everyone. Well, aside from the easy accessibility, the monument becomes famous due to other reasons, though. For instance, it is related to the name, which means the monument of the time capsule. Not to mention…
---
Known as the town at the east-most end of Indonesia. Merauke is the first town in Indonesia Archipelago that catches the first rays of the rising tropical sun. Officially, Merauke as the capital city of Papua province, Indonesia. Merauke as one of the goals in Papua must be visited and enjoyed the beauty of nature. Found on February 12, 1902 by a Dutch citizen who tried to live among the indigenous population of Marind Anim and Sohores. The name Merauke itself is said to originate from an anecdote among Dutch settlers and indigenous. At…
---