Sentani Lake in Jayapura City, Papua Province - Indonesia
---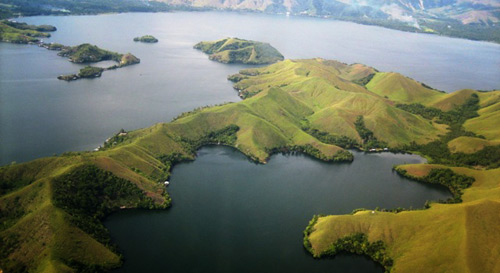 Papua Province, there is the biggest lake of the region called Sentani. The location is near to Cyclops Mountains and it has been visited by tons of tourists, either from nearby regions or other countries. Not only it is famous for the grandiose size, the lake offers numerous natural attractions that scatter near to it. Plus, visitors can do many things including sightseeing, relaxation, photography, adventure, island hopping, etc. On top of that, tourists can learn the history and legend of the site! This explains why no one would overlook Sentani when visiting Papua Province in Indonesia.
The Nuance
In terms of size, Sentani Lake has the width about 9360 hectares! It also resides on 75 meters above the sea level. With these facts, the lake is definitely the biggest in Papua Province. Not to mention it features lots of natural attractions (especially 22 small islands). The water looks calm, but it is definitely deep. As for the fauna, the lake becomes the home of several species of fishes, especially "Hiu Gergaji" or Largetooth Sawfish. Other types of fishes like rainbows and snakehead murrels also live there, actually.
Exploring Sentani Lake
Before exploring the lake for its beauty, visitors should at least learn the history and other important information regarding the lake. In terms of name, "Sentani" means We Live Here Peacefully. The name was given in 1898 by a Christian pastor named BL Bin during his missionary task in Papua Province. When it comes to legend, Sentani Lake was the location where a giant dragon fell from the sky. It is said the dragon carried the ancestors of local tribes who live in this area!
Once learning those interesting stories regarding the lake, tourists can start exploring the site. First, they must find a boat and rent it to explore Sentani Lake or visit nearby small islands. The rent fee of the boat varies depending on the season, though. As an alternative, visitors can do other fun activities like swimming, fishing, diving, and canoeing. Thanks to calm and comfy water. These activities can be done safely by everyone. However, that doesn't mean tourists can carelessly get in the water without preparation.
Another allure of Sentani Lake is the annual event called FDS or Sentani Lake Festival. During the event, tourists can enjoy numerous art performances, exhibitions, etc. Not to mention they have the chance to taste unique and delicious local foods offered by different tribes who live in Papua Province.
Nearby Attractions
Emfote Lake
Love Lake
Ikhwan Park
Teletubbies Hill
Patouw Pier
Kuning Pier
Khalkote Beach
Kali Jernih Natural Bath
Mc Arthur Hill
Nolokia Waterfall
Asei Island
How to Get There
It is easy to get to Sentani Lake. From Jakarta City, travelers can directly head to Papua Province by airplane. Their destination is Sentani Airport, and the flight may take about 8-9 hours. Once arriving at the airport, they can take a taxi or other local transportation service to visit the lake right away.
Where to Stay
Carvin Hotel
Surya Jaya Hotel
Sabang Land Hotel
Metta Star Sentani Hotel
Endnit Hotel
J-Five Hotel

Latest News
The Raja Ampat area, West Papua, in addition to its beautiful underwater panorama, the plains also have amazing charm. The karst hills at first glance look like cones, scattered in clear green waters. Deep blue water lagoons around it looks so wonderful. Tropical rainforests with endemic fauna of Raja Ampat such as the waigeo cuscus (Spilocuscus papuensis), the red bird of paradise (paradisaea rubra) and the bald bird of paradise (cicinnurus respublica) are also there. In addition to snorkeling, travelers can trekking to enjoy climbing spots on a cluster of…
---
The fertile land makes Indonesia rich in plantation products, especially upland plantations such as coffee. One of the highlands in Indonesia turns out to produce the best Arabica coffee, low in acid and caffeine. Some coffee lovers and observers say arabica coffee from the highlands of Papua is one of the best coffees Indonesia has. Arabica coffee grown in the peak area of Jayawijaya mountains has acid levels that close to zero, and low caffeine. Because the higher the place, the better arabica coffee will be. Arabica coffee is grown…
---
For those who want to spend a vacation in Merauke Regency, they indeed need to find information regarding the most recommended tourist sites in that region. As for the reference, there is the famous Kapsul Waktu Monument in Kelapa Lima Village. The location is right on the city square, so it is quite accessible for everyone. Well, aside from the easy accessibility, the monument becomes famous due to other reasons, though. For instance, it is related to the name, which means the monument of the time capsule. Not to mention…
---
Known as the town at the east-most end of Indonesia. Merauke is the first town in Indonesia Archipelago that catches the first rays of the rising tropical sun. Officially, Merauke as the capital city of Papua province, Indonesia. Merauke as one of the goals in Papua must be visited and enjoyed the beauty of nature. Found on February 12, 1902 by a Dutch citizen who tried to live among the indigenous population of Marind Anim and Sohores. The name Merauke itself is said to originate from an anecdote among Dutch settlers and indigenous. At…
---